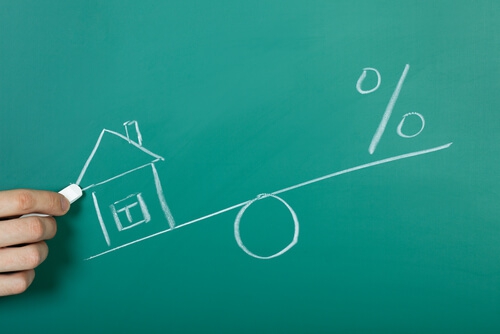 If you are buying a home or refinancing, you have probably heard about "mortgage points." This form of pre-paid interest can save you thousands of dollars over the course of your loan but in many circumstances is not worth the upfront cost. How do you know whether to pay points or not? Here's a quick guide to help you figure it out.
What are Mortgage Points?
Mortgage points – also known as discount points - are essentially a way to pay some of the interest upfront on your home loan. One point is equal to 1% of your mortgage amount. For example, one point on a $100,000 loan would be $1,000 or $2,000 on a $200,000. Mortgage points are paid directly to the lender in exchange for a lower interest rate. This is known as "buying down the interest rate."
Paying mortgage points can reduce both your monthly payment and the amount of interest you pay over the entire course of the loan.
There is no standard scale for rate reductions and points. Each lender decides how much one point will reduce your interest rate and their fee schedule can change depending on the rate climate. For example, one lender might lower your interest rate by a quarter percent for 1 point, while another might give you the same discount for 1.125 points.
When Does It Make Sense to Pay Points?
Paying points is all about saving money on your mortgage. Paying these upfront fees can make sense if:
You already have a 20% down payment and extra cash to spare.
You are applying for a fixed-rate, rather than an adjustable rate mortgage.
Mortgage interest rates are rising or historically high.
You plan to stay in your home for a long time to be able to enjoy the savings.
You have extra cash now, but need a lower, more affordable monthly payment for the future.
How Much Should I Pay?
If paying some points makes sense in your situation, you will need to figure out the "break even" period to know how many points to pay. This is calculated by dividing the total dollar amount of points you plan to pay by the monthly mortgage savings the lower interest rate generates. So say you pay one point equal to $2000 and that will save you $30 a month on your mortgage. Your break-even point would be roughly 67 months or five-and-a-half years. That means you would need to stay in that home at least 6 years to start seeing any true savings. No matter how much you pay, the longer you stay in your home the better for taking advantage of those savings.
When Should I Not Pay Points?
Paying points is not a good idea if:
You do not have a full 20% down payment. In this case you will have to pay for private mortgage insurance and that may negate any interest rate savings.
You do not plan to stay in your home long. If you plan to sell in just a few years, paying all those upfront fees will not save you money.
You are requesting an adjustable rate mortgage (ARM). Paying points on these loans usually only buys you a discount on the initial fixed-rate period when the interest rate is already lower. Because it often takes many years to break even on points, you may not end up seeing any savings.
Market interest rates are near historic lows.
Call us at today at 301-932-4610 if you have any questions for one of our mortgage professionals. All of us at Colonial Mortgage Group are dedicated to helping you understand and make the best mortgage financing decisions for you and your family.